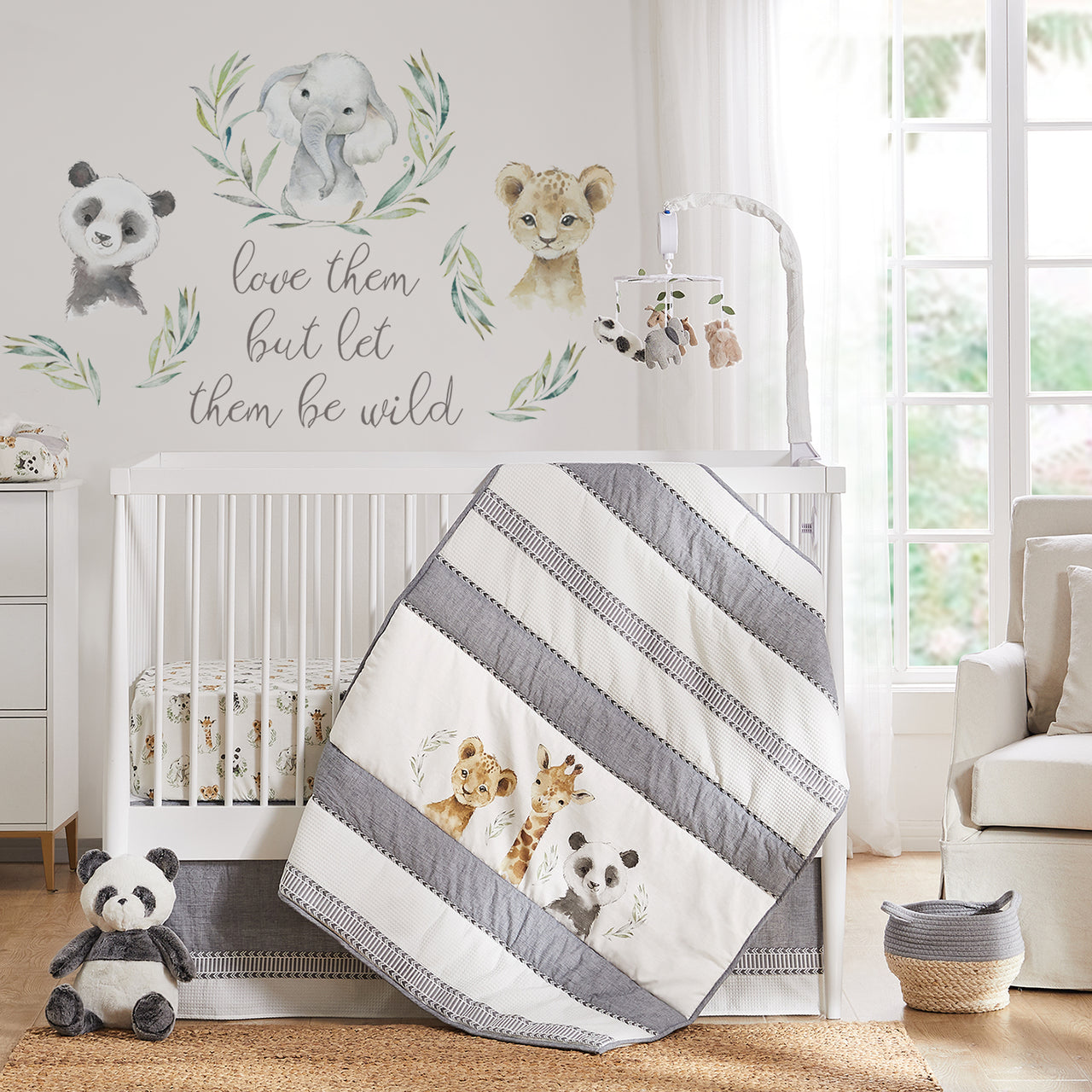 The Mozambique Nursery Collection is inspired by an adventurous jungle scene. The 4 Piece Crib Bedding Set includes a Quilt, One Fitted Sheet, Wall Decal & Skirt/Dust Ruffle. The quilt features printed curious lion cub, baby giraffe and panda with appliqued grey, cream and herringbone, with one fitted sheet matching with the design of the quilt, and the other with . Adding fun and adventurous accents, this desgin will transform your child's room!
LEVTEX BABY MOZAMBIQUE : The Mozambique nursery set is 100% cotton (not including decoration) and features 4 beautifully coordinated and complementary pieces, consisting of a quilt, one 100% cotton fitted sheet, a decorative tailored dust ruffle and a large decorative wall decal.
GENDER NEUTRAL BABY ACCESSORIES: The grey, taupe, charcoal, white and green color palette of the Mozambique crib set is fun and adventurous, making this bedding set, or any of the nursery accessories that coordinate with it, the perfect baby shower gift or accent for a new nursery.
MADE WITH BABY IN MIND: At Levtex, our range of baby accessories starts with your baby's comfort in mind. Our fitted sheets are made from 100% cotton, with a reenforced elastic all around the bottom to keep them snug to your mattress. They are easy to care for - machine washable. Our quilt is filled with hypoallergenic polyester microfiber, making it easy to machine wash.
ADORABLE JUNGLE FRIENDS THEME: You will think you are fantastic jungle adventure with our adorable adorable jungle babies look. The fitted sheet is tossed baby elephants, giraffes, pandas, koalas and lion cubs on a white ground, or switch it out with the one featuring . The quilt features printed curious lion cub, baby giraffe and panda with appliqued grey, cream and herringbone. The bedskirt has a handsome grey fabric edged in a grey herringbone and textured cream bottom, while the large nursery wall decal depicts an adorable jungle scene with self-stick, reusable decals featuring leaves , a trio of baby animals and the words LOVE THEM BU LET THEM BE WILD, completing your adorable jungle babies nursery look.
COORDINATE YOUR BABY NURSERY DECOR: The Mozambique Crib Bedding Collection fills the nursery with an adventurous jungle scene. Coordinate baby's room with other items from the Baby Mozambique range including the fitted sheets, changing pad cover, fuzzy blanket, rail guard, lamp base and shade, mobile, storage basket and wall decal.