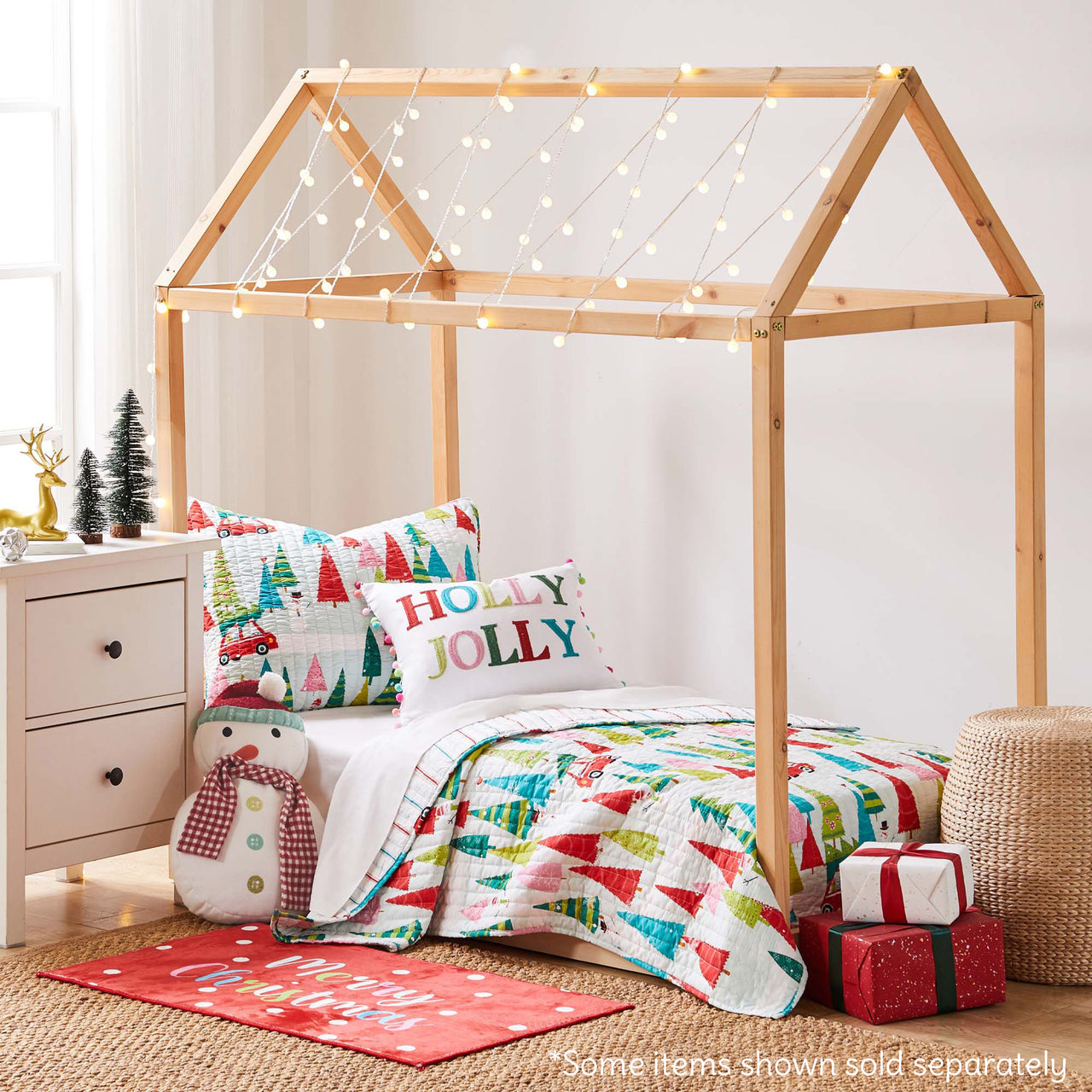 You will think that you are in those exciting family outings to pick out the family Christmas tree with our adorable fun of the holidays look. The 3 piece set includes a fitted sheet that features a solid white; a quilt that is a a family heading home through a forest of trees with their Christmas tree strapped to the car on one side and red, teal and white stripe on the other ; and a decorative pillow that features embroidered words Holly Jolly in multiple colors on a white ground and edged with a rainbow of pom poms. The perfect transition into your first big kid bed.
FEATURES
LEVTEX BABY HOLLY JOLLY : The Holly Jolly toddler bed set is fun and whimsical and features 3 beautifully coordinated and complementary pieces, consisting of a reversible quilt, fitted sheet and decorative pillow.
GENDER NEUTRAL BABY ACCESSORIES: The red, teal, green and pink color palette of the Holly Jolly toddler bed set is fun and playful, making this the perfect bedding as your little boy or girl transitions into their first big boy or girl bed.
MADE WITH YOUR TODDLER IN MIND: Fitted sheet is made with a reenforced elastic all around the bottom to keep it snug to your mattress.Quilt is filled with hypoallergenic polyester microfiber, making it also easy to machine wash.
ADORABLE HOLIDAY THEME: You will think that you are picking out your Christmas tree with our holiday fun look. The quilt is fully reversible, the solid white Fitted sheet is 100% cotton and the matching decorative pillow completes the perfect look.
COORDINATE YOUR DECOR: The Holly Jolly Toddler Bedding Collection fills the room with holiday cheer. Coordinate with other items from the Holly Jolly range.